Frequency asked questions from Internet Kingdom players.
---
-How can I start playing at your site?
...To play at Internet Chess kingdom site there are no any needs to ask or inform somebody about. First of all enter web site and click"new player registration", fill a form (accurately) and you will have permit in Tournament Hall immediately.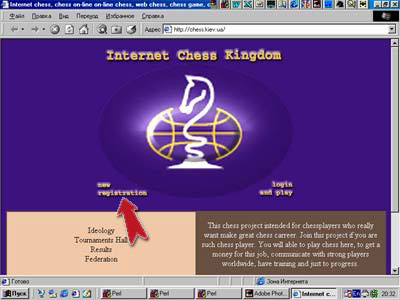 -I entered in Tournament Hall and do not see the chessplayers, what do I need to do?
...It is really possible, it mean that there are no chessplayers who interesting to start new games. If you would like to play Whites, please go Start new game and choose tournament you interesting to play in (click at link opposite tournament name). The chess board will appear. Make first move with mouse, thus you start ing white game and if somebody will want to play black he reply you and game will start.
-I moved and nobody reply, what time I need to wait opponent reply?
...It is no any needs to wait if you start (play) a tournament with long control. Your opponent has a lot of time. Firstly to start play in the tournament look at tournament rules, please (especially time control), link Tournaments in Tournament Hall.
-I see three buttons at the chess board. What for?
...Yes, chess board has three buttons. First, "capitulate" - click it if you resign this game; second, "offer a draw", click it if you would like to offer a draw; and finally, "arbiter", click it if you have stale mate, 3d repetation, any type of draw etc., the chess board will set a result in the final situation.
-Where I can see your basic rules?
...Here. Our basic rules for every tournament is following.
1.Games and opponent chooses been acted by chess players (see above),
2.Games of 3 or less moves do not counted as real, but the player dropped a game is defeated.
3.It is necessary to play some white games and some black games with different opponents to become qualified to result of the tournament (see addition for each tournament).
4.Player can start any number of white games and any number of black games,
5.Virtual players do not able to get awards,
6.Games with virtual opponents able annulled by arbiter,
7.The winner been decided of best per cent of points, if equal- duel games result, if equal- summa of points of opponents.
8.FIDE chess rules.
-I entered in Blitz Room and did not seen somebody for play.
...It is real situation. We can propose to agree visits to Blitz Room with you friends before, use chat room, messager, e-mail, phone etc.
-Where can I get all games data base?
...All played games you can see in Result option, but whole data base is a property of the site organizers.
-How do you pay awards?
....The winners get paid via mail, we send checks, sometimes via post wire or bank wire. It is nessesary to sent your post profile to e-mail chess@noo.kiev.ua
-Sometimes I can not load chess board with my browser, what does it mean?
...It is propably means that your PC overloaded by other tasks or it is not enough disk space at c:\ drive.
Close others frames, check a disk space (must be more 120 mb), reboot you PC (sometimes no needs). Everything must work.
-Do Kingdom maintain any rating system?