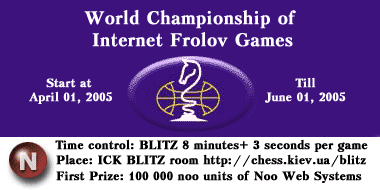 Visit our sponsor:
Noo Web Systems
Noo Stock Exchange
Noo Supermarket
Frolov Chess Champ will start at April 01, 2005 and will be finished at June 01, 2005. The place of competition is http://chess.kiev.ua/blitz of Internet.
Every Frolov chess player could participate in Championship.
Participation is free of charge.
Every participant have to play min 20 opponents (min 10 white and 10 black games).
Time control is 8 minutes plus 3 seconds per game (BLITZ). Players set time by themselfs before starting a game.
Winners. World Champion and Vice-World Champion.
Three money Awards from our sponsor Noo Web Systems in noo units, first is 50000 noo, second is 30000, third is 20000.